Sasquatch, say cheese!
With this prototype, I was interested to learn more about how to implement hand-drawn 2d art in a 3d space, and how to create and implement in-game photo captures within gameplay. Sasquatch, say cheese! was a really great opportunity for me to explore all of those goals.
​Sasquatch, say cheese! was a 10-hour prototype made for the NYU Game Center's "Prototype Studio" course, with the prompt of "Portrait."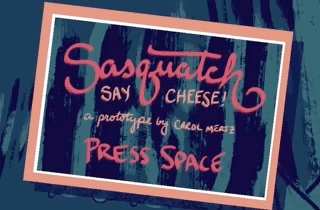 HOW TO PLAY:
Hang out in the forest with a very sassy Sasquatch, and take their photo if you feel like it. That's it—that's all there is.
CONTROLS:
Look around with your mouse, and take/hide photos with Spacebar.
Music by Monplaisir